EasyCord - Retraction threads, unimpregnated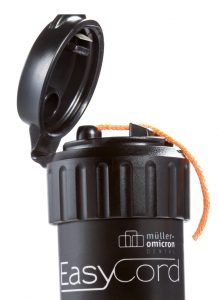 EasyCord – Tissue Management
Knit retraction cords made of 100 % cotton, non-impregnated. The special cord sample makes it possible to soak up a large amount of liquids, the excellent compression purposefully redelivers the liquid for effect. Very good flexible behaviour provides for a constant pressure and perfect fit; EasyCord can be easily inserted, it does not fray and does not get tangled up in the rotating diamond drill.
Further advantages of EasyCord
30 % higher liquid absorption capacity
High speed absorption with WOW-Effect
Easy handling thanks to

Integrated cutter and
linear measurement scale for simple and hygienic dispensing.
EasyCord
EasyCord packing unit
REF 20254-000

size 000, green, 330 cm

REF 20254-00

size 00, brown, 330 cm

REF 20254-0

size 0, purple, 330 cm

REF 20254-1

size 1, blue 330 cm

REF 20254-2

size 2, orange, 330 cm

REF 20254-3

size 3, yellow, 330 cm
EasyCord Organizer

EasyCord Organizer packing unit
REF 20EC-ORG

1 pcs. Organizer, empty, acryl glass
Advice and contact
Personal advice and contact.