Aqium® 3D BITE scannable bite registration material
Aqium® 3D BITE as a bite registration material
Addition-curing, scannable recording material with high thixotropy, excellent dimensional stability, fine drawing sharpness and exact detail reproduction. The material can be trimmed and cut very well. Aqium® 3D BITE has been specially developed for use in CAD / CAM systems.
The novel, special composition causes excellent reproduction of 3D data captured, eg. B. occlusal surfaces, antagonists, preparations. Additional use of powder is eliminated
Aqium® 3D BITE
Working time: 30 sec.
Time in mouth: 30 sec.
Final hardness: Shore D 45
Special feature: extra high hardness; excellent milling and cutting features
Colour: yellow
Aroma: neutral
Indications: Specifically created for the use in CAD/CAM systems. Digitization of occlusion surfaces, antagonists and preparations (no powder needed)
Long-lasting bite registration material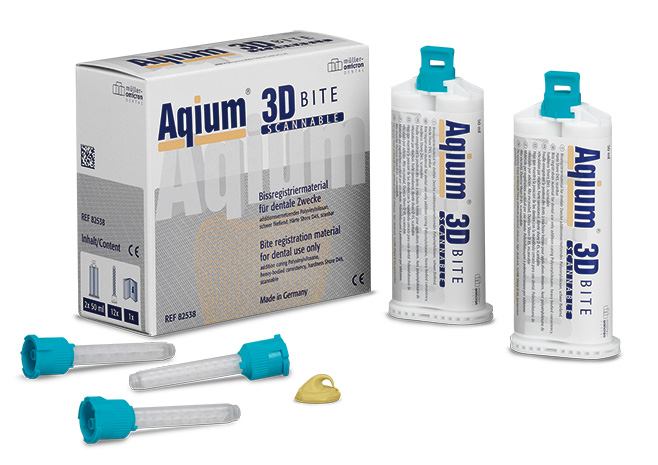 Aqium® 3D BITE packing unit
REF 82538

2x 50 ml cartridges + 12 Mixing tips NT, green
Advice and contact
Personal advice and contact.