The Cleaner Concentrate
For weekly hygiene in dental aspiration systems of all types including their drainage pipes. The low-foaming concentrate offers a high cleaning performance and material compatibility and, with regular use, prevents formation of deposits and blockages or dissolves already existing deposits. Ideal for weekly alternating cleaning of the aspiration system alternating with Dentosuc daily AD pur.
Fields of application
For weekly cleaning of dental aspiration systems.
Ingredients
(100 g of the solution contain):
< 5 % amphotericsurfactants
< 5 % Phosphonates
Dentosuc weekly AC pur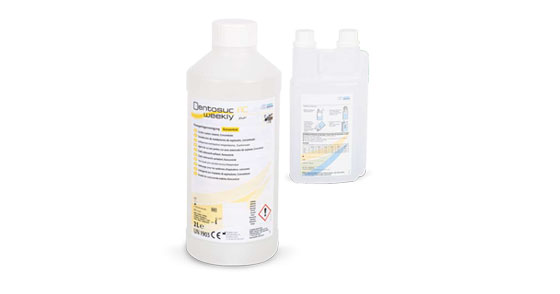 Dentosuc weekly AC pur packing unit
REF 75102000

2 litre bottle
Particularly suitable accessory
REF 701001000

1L Universal metered-dose-squeeze bottle, empty
Advice and contact
Personal advice and contact