Disinfectant for rotating instrumens ready-to-use
Highly effective, cleansing, ready-to-use combined preparation with a broad spectrum of activity against bacteria (including TBC), yeasts and enveloped viruses. The preparation contains an effective corrosion protection. The mild pH-value in combination with special ingredients results in a high material compatibility and thus significantly increases the lifetime of the burs. The rotating instruments stay sharp longer. VAH-listed.
Type of application
For cleaning and prophylactic disinfection of rotating instruments, such as carbide drills, diamond cutters, ceramic abrasives, rubber
polishers, root canal instruments and other stainless steel instruments in an ultrasonic bath or bur bath.
Spectrum of effectiveness + application times
Bactericidal (incl MRSA) (EN 13727, EN 14561 and VAH, high contamination): conc.: 5 min.
Levurocidal (c. albicans) (EN 13624, EN 14562, VAH, high contamination): conc.: 5 min.
TbB (M. terrae and M. avium) as per EN 14348 and EN 14563, low contamination: conc.: 5 min.
Enveloped viruses (e.g. HBV, HCV and HIV) as per RKI/DVV and EN 14476 (high contamination): conc.: 5 min.
Ingredients
(100 g of solution contain): 0.396 g Didecyldimethylammoniumchloride, 0.2475 g N-(3-Aminopropyl)-N-dodecyl-propan-1.3-diamin.
Dentodrill® ID liquid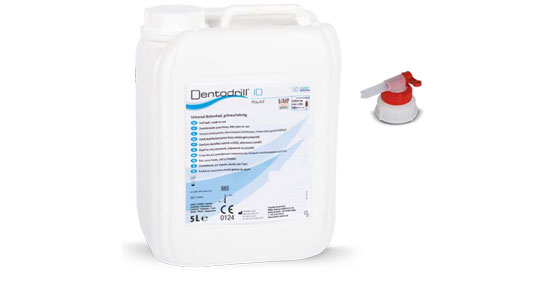 Dentodrill® ID liquid packing unit
REF 73005000

5 litre canister
Particularly suitable accessory
REF 701000911

Canister cock
Advice and contact
Personal advice and contact