granit PERFECT D45 extra hard bite registration material
granit PERFECT D45 as a bite registration material
Bite registration material of absolute top class. Extra hard with a final hardness
of Shore D45 for simplest processing through milling and breaking.
An extra fast setting time in mouth offers higher convenience for the patient and
avoid warped bite registrations. High thixotropy, high dimension stability.
granit PERFECT D45
Working time: 30 Sek.
Time in mouth: 30 sec.
Final hardness: Shore D 45
Special feature: extra high hardness; excellent milling and cutting features
Colour: green
Aroma: Mint
Indications:
Long-lasting bite registration material
Fixing of support registration and bite conditions with the help of a facebow.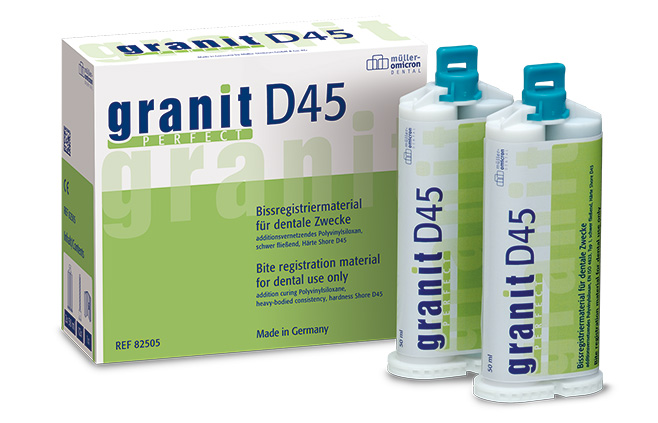 granit PERFECT D45 packing unit
REF 82505

2x 50 ml cartridges + 12 Mixing tips, green

REF 86505

6x 50 ml cartridges + 36 Mixing tips, green
Advice and contact
Personal advice and contact.