Dentalrapid® Ultra SD liquid surface disinfection
Full virucidal surface disinfectant ready-to-use
Type of application: As per the Medical Devices Law (MPL):
For rapid disinfection of alcohol-resistant, non-invasive medical devices. VAH-listed.
Ingredients
(100 g of solution contain): 60 g of ethanol. Contains anionic surfactants > 5 %.
Spectrum of effectiveness + application times
Surface disinfection (wiping disinfection) according to VAH (bactericidal)
yeasticidal, high contamination): conc. 1 min.
tuberculocidal (M. terrae) (EN 14348): conc. 30 sec.
virucidal (EN 14476) including HBV/HIV/HCV: conc. 1 min.
poliovirus: conc. 1 min.
adenovirus: conc. 30 sec.
norovirus (MNV): conc. 1 min.
rotavirus: conc. 30 sec.
Dentalrapid® Ultra SD liquid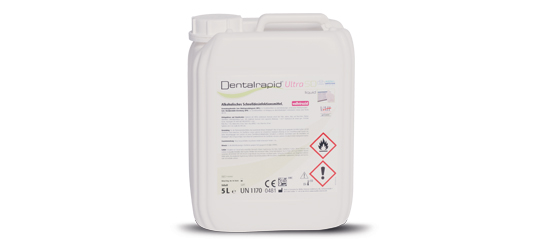 Dentalrapid® Ultra SD liquid packing unit
REF 71305000

5 Liter canister
Dentalrapid® Ultra SD liquid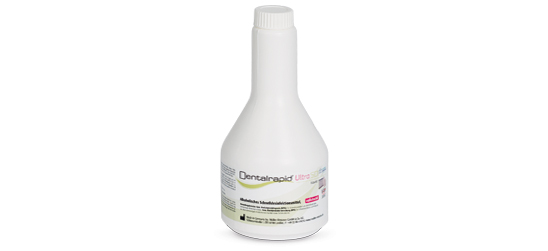 Dentalrapid® Ultra SD liquid packing unit
REF 71300500

500 ml bottle
Advice and contact
Personal advice and contact