Spittoon bowl disinfectant ready-to-use
Dentotol® MD liquid is a special alkaline product for the cleaning, disinfection and care of spittoons in dental chair units. This solution removes deposits of calcium, blood and dye residue from plaque tablets reliably. The application is recommended after each contamination.
Spectrum of effictiveness + application times
Bactericidal and candida albicans as per EN 13697 and DGHM (low contamination): conc. 1 min.; TbB (M. terrae) as per EN 14348 (high contamination): conc. 1 min.
Ingredients
(100 g of the solution contain): 25 g ethanol, 1.0 g bis(3-aminopropyl) dodecylamine
Dentotol® MD liquid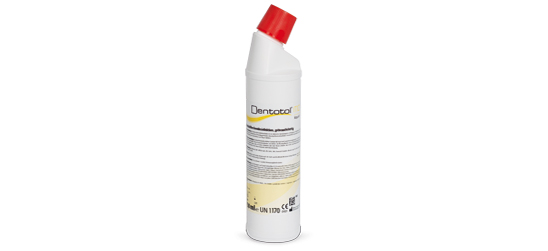 Dentotol® MD liquid packing unit
REF 75210750

750 ml bottle
Advice and contact
Personal advice and contact